The Art of Playing Timbales Vol 1 by Victor Rendón
$

22.00 On Sale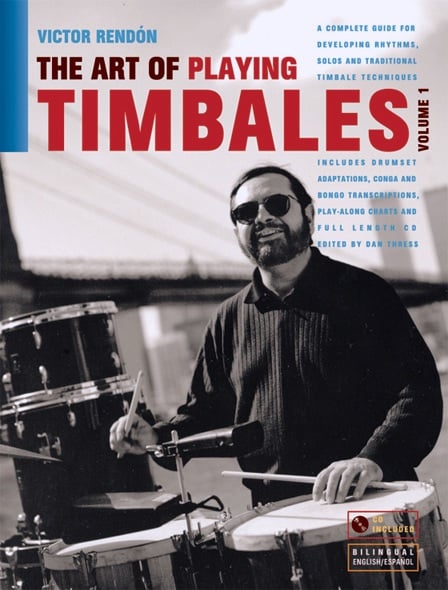 The Art of Playing Timbales Vol 1 is designed for the beginning timbalero, or drumset player, who wants to understand how to play Afro-Cuban music in a professional setting. If you have just purchased a pair of timbales, this book will teach you everything from proper setup, stick sizes, rhythms, independence, transitions, song forms, and SOLOING. Each music example has a corresponding track number which can be found on the CD. Simply read the music exercises, and listen to the corresponding track number on your CD player.
Each exercise on timbales is also arranged for drumset. Conga and bongo students will find their parts in each section of the book and CD. Please note: to take full advantage of this book, students are encouraged to learn each part for timbales, drumset, congas, and bongos.
Each section features play-along CHARTS and CD TRACKS with some of NY's top Latino musicians: Sergio Rivera (piano), Victor Venegas (bass), Heriberto Rivera (bongo), Anibal Tito Rivera (congas), and Victor Rendon (timbales and drumset). By using these play-along charts you will gain valuable realistic playing experience that will directly translate to your school ensemble or professional group.
CHAPTERS: Introduction, Position of the Timbales, Different Sounds, Clave, Abanico, Cha Cha Cha, Son, Transitions, Bell Patterns, 6/8, Independence, Mozambique, Solo Phrases, References.
ALSO INCLUDED: INTERVIEWS with famous timbaleros: MIKE COLLAZO (Tito Rodriguez, Celia Cruz, Eddie Palmieri, Tito Puente), JOSE MADERA (Machito, Fania All-Stars, Pacheco, Tito Puente), and JOHNNY ALMENDRA (Jovenes del Barrio, Willie Colon, Mongo Santamaria, John Scofield).
And SOLO TRANSCRIPTIONS from GUILLERMO BARRETO and MANNY OQUENDO.
CD features 75 tracks of drumming
Bilingual text: English/Espanol
Edited and produced by Dan Thress
Victor Rendon is a sought after New York City timbalero/drummer, who is co-leader of The Latin Jazz Orchestra, and sideman with Mongo Santamaria, Chico O'Farrill, Carlos Patato Valdez, Ray Santos, Grupo Caribe, The Latin Jazz Coalition, Los Mas Valientes and many others. Rendon's work has appeared in Modern Drummer, DRUM!, Percussive Notes, and Warner Bros. Publications.
Share